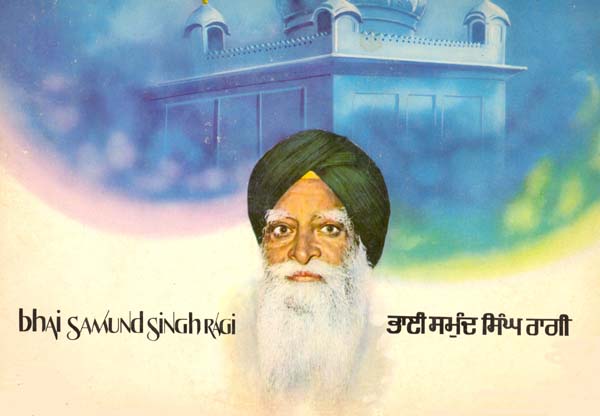 Bhai Samund Singh Ji, Hazoori Ragi (1900-1972)
Born at village Mulla Hamza in Montgomery District (now in Pakistan) in 1900 A.D., Bhai Samund Singh was given training in music by his father Bhai Hazur Singh Ji from his early child-hood. As a little boy he won a number of prizes and distinctions at musical concerts. He came to be known as 'Kaka Samund Singh' and was much in demand at Sikh congregations. His party came to be known as the best in the understanding of their art and almost perfect in presentation of Gurbani Kirtan. With his unique melo-dious voice, an extensive and deep understanding of Gur-bani, correct interpretation of ragas, attractive style of sing-ing and great human qualities, he reigned supreme for sixty years in the world of Gurbani Kirtan. He performed kirtan at the Gurdwara Janam Sthan, Sri Nankana Sahib, the birth place of Guru Nanak Dev, for many years. He broadcast kirtan for 36 years from All India Radio, Lahore and later from Jalandhar and commanded wide listening. Passers-by stopped in the streets to listen to his kirtan irrespective of their faith. He was invited to perform kirtan in the National Programme of Music by All India Radio, the highest recognition of his art. He was given State award by the Punjab Government in 1971. He passed away at Ludhiana (5th January, 1972).
According to the author of the Sikh Sacred Music, "Bhai Samund Singh is the most eminent Ragi in the Punjab. His forefathers were honoured Ragis at Nankana Sahib for five generations. He sings in simplified classical mould and balances the emotional effect of the music with the spiritual appeal of the word by repeating the phrases with subtle variations. He has a melodious voice of considerable flexibility. His rendering of shabads excels in lyrical refinement. He sings in medium tempo, creating the illusion of a placid flow of a stream."
He lived a simple life of a true devotee. It was his firm belief that the sacred music sung by a 'Ragi' must flow from a heart purified by practical life of simplicity restraint & constant meditation.
He will be remembered for a long time for his unrivalled qualities as a musician and scholar of Gurbani Sangeet.
Bhai Harbhajan Singh Ji
Bhai Harbhajan Singh ji, was born son of the legendary Kirtaniya, Bhai Samund Singh ji, in 1937. Guess where? At Nankana Sahib, which is now in Pakistan. At the time India was partition in to two unfortunate countries, and then three, he was only 10 years old.
Given the changed scenario within the Gurudwara Management where petty politicians began to play bosses, new breed of sycophants, who first practicing sycophancy with their then British masters and later with the Brown Sahibs who had learnt well to ape their erstwhile rulers. These were the new ruling class. The loss was evident —none of the erstwhile Gur-Sikh Kirtaniye pushed their children in to learning and becoming custodians of Guru-Sikh Vidya-Parnali. I am a critique of this not so well thought move, I am yet to see a note of resilience from anywhere, and believe me, I have searched, and searched well.

There was something that did happen. There was sign of resignation. There were a lot of distractions as well. Meeting Bhai Harbhajan Singh, it was getting them buried questions ripped all open out of treasure chests and seeing them sprawled over. For, what rich magnificence it then was, and now, what impoverished mediocrity it now is.

Any way, here is the first video I have taken of Harbhajan Singh Ji, I took with in hours of meeting him and his wife, Mrs. Indu Raj Singh. She studied music when she was young and they both sing along very nicely.

[Courtesy: Bhai Baldeep Singh ji]
Total Page Visits: 41749 - Today Page Visits: 22
2019-03-13